ITI Thermography Training FAQ's
---
Infrared Training Institute provides infrared thermography training for anyone wishing to further his or her knowledge in the field of thermal imaging.
Our courses are designed for engineers, craftsmen, scientists, managers, electricians, mechanical maintenance, PPM personnel and home inspectors.
Our certification courses conform to ASNT guidelines as outlined in the ASNT-TC-1A. Our curriculum meets or exceeds ASNT-TC1A and ASNT-CP189 used in Nuclear Power Plants.
Our courses also comply with ISO-9712 and DIN used in Germany. A course outline is available upon request. We provide training and certification for NASA, United Space Alliance, Exxon Mobil, Dell, Intel, AMD, Louisiana Pacific, Temple Inland, Shell, Citgo, Continental Airlines, Georgia Pacific and many more.
Our curriculum includes Level I Training (Certification), Level II Training (Certification), building science courses, management seminars, software training, operator training, application specific training, and infrared program development. Whether your interests are electrical, mechanical, process, energy audits and conservation, or research and development, we are here to meet your needs.
Level I and Level II courses are 32 hours.
Software courses are 4-16 hours.
The closest hotels to the training facility are located here.
On-site training courses are also available. These include ASNT certification classes as well as application specific training tailored to meet your needs.
ITI Thermography Training FAQs
---
General Thermography FAQs
---
Thermal imaging, like visual imaging, is the collection, recording, and displaying of light from a scene
.
Infrared imaging is also referred to as thermal imaging; these terms
are taken
to be identical
.
However
, "infrared" refers to light with longer wavelengths than that of visual light.
Thermal imaging shows the thermal patterns emitted from, or reflected off of a target, and as such, it does not
require
visual light
.
Infrared Thermography is the discipline concerned with the acquisition, storage & analysis of radiated energy using a thermal imaging camera system.
* Infrared Instruments DO NOT Measure Temperature!
* They measure Infrared Radiated Energy only!
Typically you will hear both infrared and thermal imaging. They are really the same thing. Thermography, however, refers to active collection & interpretation of infrared data. Thermography is the measurement of temperature remotely to indicate equipment health and assigning a color based on the temperature.
* Emitted by all objects above absolute zero (-273° C, -459° F)
* Generated by the motion of electrically charged particles.
* Molecular activity increases with energy in an object.
* The temperature of an object is a measure of its molecular exitation.
* Infrared radiation increases with molecular activity.
* Therefore, the higher the temperature the more infrared radiated energy!
Radiation is the transmission of electromagnetic rays through space and like radio waves, is invisible. Each material that has a temperature above absolute zero (-460°F) emits infrared radiation, including the sun, icebergs, stoves or radiators, humans, animals, furniture, ceilings, walls, floors, etc. All infrared cameras and thermometers, detect radiant heat, also known as infrared radiation. As an object becomes warmer, it radiates more energy which the camera detects, creating a thermal image or thermogram.
The infrared energy emitted from the measured object is converted into an electrical signal by the imaging sensor (microbolometer) and displayed as a color or black & white thermal image.
The infrared ray is a form of an electromagnetic wave as well as a visible light or a radio wave. The wavelength band is 0.78 to 1000[μm] that is longer than visible light yet shorter than radio wave, and the wavelengths are classified from the near infrared to the far infrared region. However, it shall be considered as various classifications have been proposed. The infrared ray is also energy radiated by motions of atoms and molecules on the surface of object, in case the temperature of the object is more than absolute zero degree.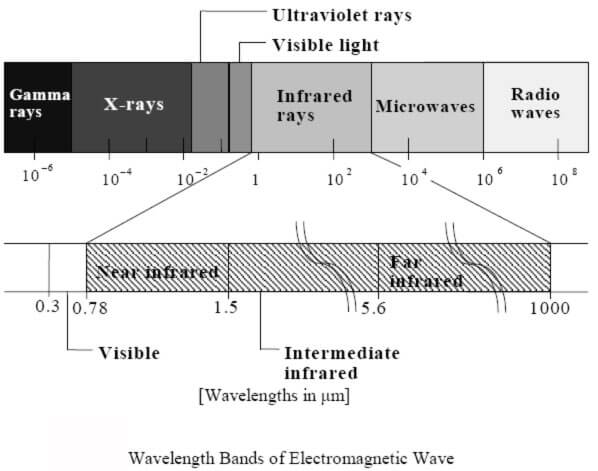 A thermogram is a thermal image made by an infrared camera showing temperature differences in varying colors based on the color palette chosen by the thermographer. The dictionary defines thermogram as a photographic record made by thermography.
What are the Benefits of Infrared Thermography?
Temperature calculations are non-contact
Process does not have to be shut down – must be running
Will not deface or destroy the product
Transient phenomena or moving objects can be studied
Fast response, milliseconds
Temperature calculations of irregular shaped objects
Pattern observation and evaluation
Collection of large amounts of thermal data
Measurement through hazardous atmospheres
Measurement through special IR windows
Data easily stored for post analysis and trending
ISO 18436-7-2008 specifies requirements for qualification and assessment of personnel who perform inspections. As with ISO 9712 and ASNT TC1A it is up to the employer to implement these requirements and procedures into their written practice. ISO 18436-7-2008 is more of a procedure that lays out how to inspect equipment and we follow these guidelines. The issue some industries have with this specific procedure is that it does not apply to some specified equipment or specific situations. For instance it is not recognized by U.S. Nuclear Power Plants, Power Generation and Transmission, Petrochemical, or the Aerospace industry.
Our courses meet or exceed the specific requirements of ISO 18436-7.
ASNT-TC1A, ASNT CP – 189 and ISO 9712 lay out specific requirements in training hours, eye exams, test questions, hours of experience, specific, general, and practical examinations. Many U.S. Corporations have implemented ISO 9001 but not ISO 9712. Almost all US companies follow ASNT TC1A as it is recognized all over the world when it comes to Qualification and Certification of Non-Destructive Testing Personnel. It was here before ISO and US industry still uses it very specifically. Nothing in 9001 requires industry to change because ASNT TC1A is recognized through ASTM.
Lodging
---
The following hotels are a close distance to our training location:
MCM Elegante'
2355 I-10 South Beaumont, Texas 77705
Phone: (409) 842-3600
Candlewood Suites Beaumont
5355 Clearwater Court, Beaumont, TX 77705
Phone: (409) 840-9119
Residence Inn by Marriott Beaumont
5380 Clearwater Ct, Beaumont, TX 77705
Phone: (409) 434-0600
Hampton Inn Beaumont
3795, I-10, Beaumont, TX 77705
Phone: (409) 840-9922
Homewood Suites by Hilton Beaumont, TX
3745, I-10, Beaumont, TX 77705
Phone: (409) 842-9990
Holiday Inn & Suites Beaumont-Plaza (I-10 & Walden)
3950 I-10 South &, Walden Rd, Beaumont, TX 77705
Phone: (409) 842-5995
La Quinta Inn & Suites by Wyndham Beaumont West
5820 Walden Rd, Beaumont, TX 77707
Phone: (409) 842-0002
Comfort Suites
5955 Walden Rd, Beaumont, TX 77707
Phone: (409) 840-6001