Willoughby Smith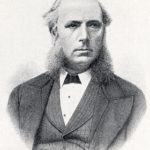 Willoughby Smith (6 April 1828, Great Yarmouth, Norfolk — 17 July 1891, Eastbourne, Sussex) was a British electrical engineer who unearthed the photoconductivity of the component selenium. This revelation contributed for the contrivance of photoelectric cells, including those applied in the yesteryears television systems.
He started his professional career with the Gutta Percha Company, London in the year 1848 where he created iron and copper wires separated with gutta-percha to be used for telegraph wires. In 1849, Smith took the charge of oversee the development and setting of 30 miles of underwater telegraph wire from Dover to Calais. He got associated with Charles Wheatstone who had developed the mechanical tool for making and laying the cable.
The project bore fruitful result and the testimony of its success was evident from involvement of Smith and the company he worked for with many other underwater telegraph cable projects.
In 1873, Smith designed a module for persistently testing an underwater cable as it was being laid. For doing so, he required a semi-conducting element with a high withstand ability and selected selenium rods to accomplish the test.
The selenium found to perform the task flawlessly, except in actual use, the tool showed irrelevant results. Upon evaluation, it was found that the conductivity of the selenium rods reduced to a great extent when exposed to strong light.
Smith specified the "Effect of Light on Selenium during the passage of an Electric Current" in an article that was published in Nature in 1873 of 20th February issue.