Macedonia Melloni
Macedonio Melloni (11 April 1798 – 11 August 1854), a physicist from Italy was renowned for giving testament to radiant heat that carried those physical properties that had with the light.
Life
Came into the world in 1824 at Parma, he had succeeded in getting the job of a professor at the local University but reigned from the post after he was obliged to flee to France on account of participating in the revolution of 1831. Subsequently, he took asylum in Naples in the year 1839 and was soon held the position of a director at the Vesuvius Observatory. He chose to hold the position till 1848 and in the meantime i.e. in the year 1845, he was elected a foreign member of the Royal Swedish Academy of Sciences.
He left the world at the age of 56 at Portici, near Naples and the then life-threatening malady; cholera had contributed to his death.
Work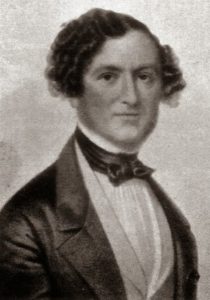 He employed an optical bench integrated with thermopiles, light and shields and heat sources, such as Locatelli's lamp and Leslie's cube, with the perspective to detect that radiant heat that needed to be reflected, refracted and polarized in the similar manner as the light did.Melloni had earned fame only after the discovery of the radiant heat, formulated with the support of the thermomultiplier, a fusion of thermopile and galvanometer. In 1831, immediately after the introduction of thermoelectricity by Thomas Johann Seebeck, Melloni and Leopoldo Nobili used the device for experimentations particularly emphasized on features of (in modern terminology) black body radiation passed on by different materials.
His noteworthy book, La thermocrose au la coloration calorifique (Vol. I., Naples, 1850), remained incomplete at the time of his departure from the world.
He also achieved wisdom on the magnetism of rocks, electrostatic induction and photography.
Honors
Rumford Medal of the Royal Society, (1834)
Correspondent of the Académie des Sciences, (1835)
Foreign member of the Royal Society, (1839)