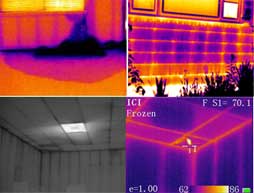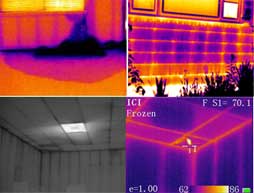 Infrared building inspection is a beneficial service that can help the customer find or diagnose issues with the building in question. Thermal imaging uses infrared as an advanced non-destructive technology that allows a technician to show the customer issues with their building that no one can see with conventional inspection methods.
Infrared inspections and surveys are increasingly requested for residential, industrial and commercial applications. These inspections utilize the same technology found in military, aerospace, and medical applications. Infrared thermal inspections have assisted home owners, real estate investors, potential home buyers, commercial properties, industrial preventive maintenance, building management firms, and commercial management firms.
In the private sector analysis of residential properties, general contractors, renovators, home inspectors, real estate specialists, home builders, and home improvement specialists.
Thermal infrared inspections are exceedingly important for any region due to changes climate and seasonal conditions. At some point in time, everyone becomes affected by high energy costs; an infrared inspection can assist with environmental and building concerns and significantly reduce damage and repair costs associated with them.
An infrared inspection can identify and document the following issues:
Electrical faults before they cause a fire
Overloaded and undersized circuits
Circuit breakers in need of immediate replacement
Missing, damaged, and/or wet insulation
Heat loss and air infiltration in walls, ceilings, floors, windows and doors
Water and moisture intrusion that could lead to mold
Possible pest infestation
Hidden roof leaks, before they cause serious damage
Air conditioner compressor leaks
Under fastening and/or missing framing members
Structural defects
Broken seals in double pane windows
Energy loss and efficiency
Dangerous flue leaks
Damaged and/or malfunctioning radiant heating systems
Unknown plumbing leaks
Overheated equipment